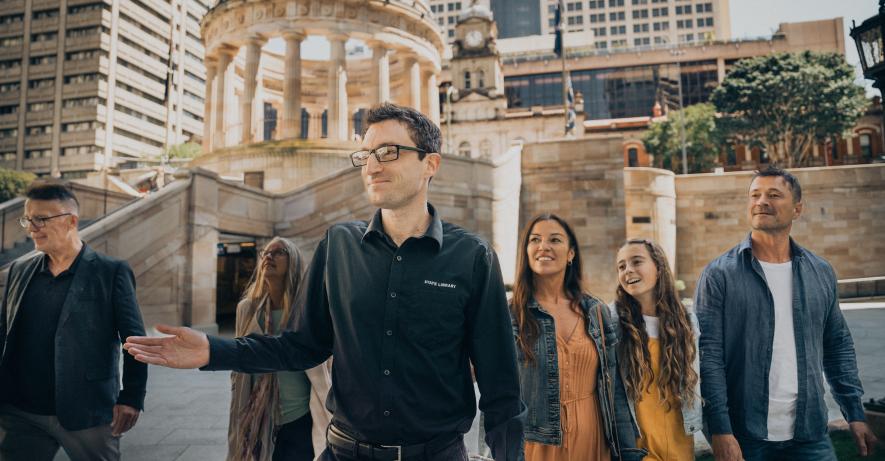 Groups
Everything you need to know about a school or group visit to Anzac Square and Memorial Galleries.
Group Tours
School and community groups are welcome at the Memorial Galleries.
Groups are invited to join our free 45 minute tours, led by an expert guide. Group tours embark on an interactive journey of the Anzac Square Memorial Galleries and explore Queensland's war stories and history from World War I to today.
Available days: Each weekday, except public holidays
Session times: 10.30am, 11.30am, 1.30pm
Location: Anzac Square, 285 Ann Street, Brisbane
Contact us by phone 0466 922 259 or email anzacsquare@slq.qld.gov.au if your group has any special requirements or interests.
School groups
At least one adult supervisor is required for each group of 30 students and is expected to supervise students at all times.
School groups may access study spaces and a large screen for presentations. Please contactopen_in_new our friendly team to discuss your requirements.
We also provide a comprehensive suite of curriculum aligned teaching resources and professional developmentopen_in_new.
Number of attendees
Tour groups are limited to 30 participants including staff and supervising adults.  A maximum of 2 tour groups (60 participants total) are available during each time slot. Larger groups may book across multiple time slots.

Meeting point
Start your group tour at the main entry. Look for the large double brass doors located in the left corner of the Anzac Square parkland.

Meal breaks
The Anzac Square Memorial Galleries are a designated sacred and commemorative site. Food and drinks are not to be consumed inside. However, the Anzac Square parklands offer many shaded and grassed areas for picnic lunches.

Cancellations and changes to bookings
Contact us if you need to change or cancel your booking. Please allow at least two days notice.