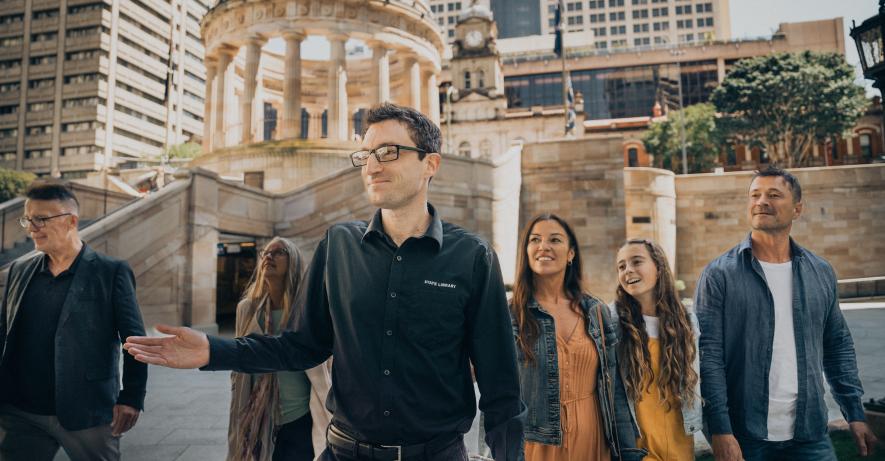 Guided tours
Everything you need to know about a school or group visit to Anzac Square and Memorial Galleries.
Guided Tours
Book a free guided tour of Anzac Square & Memorial Galleries
Embark on a transformative journey through Queensland's military past with a free guided tour of Anzac Square & Memorial Galleries.
Located in Brisbane's CBD, with the spectacular Shrine of Remembrance and Eternal Flame burning at its heart, Anzac Square & Memorial Galleries is one of the city's most iconic historical sites and a must-see destination for any war history enthusiast.
We are the place where Queensland remembers; where stories of courage, resilience, bravery, and sacrifice are etched in the hearts and minds of all who visit, and where you'll leave holding the Anzac Spirit in ever greater reverence.
Booking a free guided tour is the best way to enrich your experience and make the most of your visit to Anzac Square & Memorial Galleries. Our knowledgeable guides will bring history to life as they lead you through the interactive exhibition; connecting you with the selfless men and women who have served our country for more than a century. We believe that Queensland's stories of service deserve to be told—and that by sharing these stories with current and future generations—we help shape a better future.
Our free guided tours operate weekdays at 10:30am, 11:30am, and 12:30pm, and there is no minimum number of attendees. That means you can book a free guided tour regardless of whether you're joining us as a group (maximum 60 participants), family, couple, or solo traveller. Tours can also be tailored to suit
School tours
At least one adult supervisor is required for each group of 30 students and is expected to supervise students at all times.
School groups may access study spaces and a large screen for presentations. Please contactopen_in_new our friendly team to discuss your requirements.
We also provide a comprehensive suite of curriculum aligned teaching resources and professional developmentopen_in_new.
Number of attendees
Tour groups are limited to 30 participants including staff and supervising adults.  A maximum of 2 tour groups (60 participants total) are available during each time slot. Larger groups may book across multiple time slots.

Meeting point
Start your group tour at the main entry. Look for the large double brass doors located in the left corner of the Anzac Square parkland.

Meal breaks
The Anzac Square Memorial Galleries are a designated sacred and commemorative site. Food and drinks are not to be consumed inside. However, the Anzac Square parklands offer many shaded and grassed areas for picnic lunches.

Cancellations and changes to bookings
Contact us if you need to change or cancel your booking. Please allow at least two days notice.