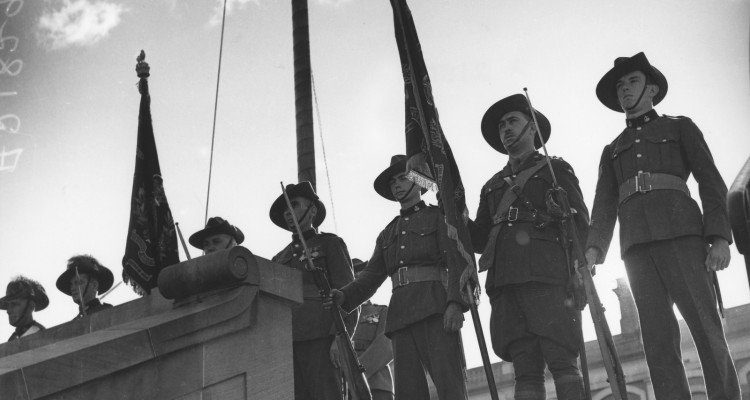 Queensland the brave: a guided tour through stories of service
Book now
Price
Free, booking required
Booking required
As part of Remembrance Day 2023 Anzac Square Memorial Galleries will be offering special tours in October and November exploring our military history and traditions, and sharing stories of Queensland war heroes that exemplify the Anzac Spirit and underpin this important day.
We've searched through State Library's extensive military collection to bring you some of our favourite stories of courage, resilience, and sacrifice from the home front and the warfront, as we guide you on an interactive journey from the First World War to today.
Some of the moving stories you'll hear on this special tour include:
- WWI Ace Pilot Francis Ryan Smith, whose plane was shot down behind enemy lines on 10 November 1918, forcing him to don civilian clothes and walk 40 miles back to his squadron, while evading capture by German forces.
- Major Stan Mellick, who served in Signals and spent his 23rd birthday lying at the bottom of a trench in New Guinea as one of WWII's fiercest battles raged overhead. Stan recently passed away peacefully aged 103 years old.
- And, Mrs. Jessie Mary Vasey CBE OBE, the founder and president of the War Widow's Guild of Australia. Jessie was also a leading figure during WWII serving as the secretary of the Australian Imperial Force Women's Association.
Book now to secure your place on this limited tour. You can also discover different ways to commemorate this Remembrance Day here: https://www.anzacsquare.qld.gov.au/commemorate/remembrance-day
Tours depart from the main entrance of the Anzac Square Memorial Galleries (look for the large double brass doors located beneath the Shrine of Remembrance, on the back left corner of the Anzac Square parklands).
Contact event organiser
Organiser
Anzac Square Memorial Galleries