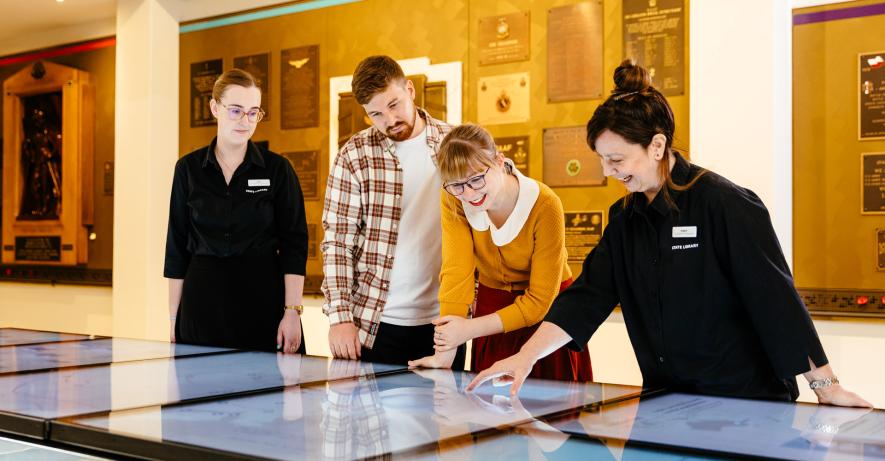 World War II Gallery
Lined with memorial plaques, this gallery invites visitors to explore Queensland's involvement in World War II.
About the gallery
You can explore the Queensland war experience and State Library of Queensland collection items on large, fully interactive touchscreens. Then, take the time to view the plaques honouring a range of battalions and other units which served in World War II.
A visually striking full-height projection wall will also draw your attention, showcasing evocative images of Queensland men and women at home and abroad, using a rich and engaging array of images sourced not only from State Library of Queensland's collections but also from local, national and international organisations and private collections.
Interactive experiences
Explore the gallery's amazing 'Sand table' display of interactive touchscreens to track Queensland's fascinating World War II activity from Brisbane and Townsville to the Torres Strait. You can discover the history and achievements of each unit with a memorial plaque in the gallery, and even fully interact with an amazing 3D digital showcase of some of the most interesting items that State Library has in its collection connected to the Second World War in Queensland.
An interactive timeline allows you to follow the activities of US Forces in Queensland, you can follow the full extent of action in the Pacific Theatre, and learn all about the experiences of Queenslanders who served, as well as the significant contribution made by Queensland women.
Discover stories like that of Gunner William Thompson, who saw action in Johore, was part of the surrender at Singapore in January 1942 and worked as Prisoner-of-War on - and survived - the infamous Burma-Thailand railway.
Hidden mural
Concealed behind the projection wall panels, a special part of the gallery's heritage is safely preserved. In 1984, the Anzac Square WWII Memorial Gallery space became home to a large-scale glass mural designed by Mr Don Ross, a former Brisbane dentist and artist. Commissioned as a memorial to World War II, the mosaic contains over 140,000 small enameled glass tiles and has been described as 'an abstract and allegorical depiction of four male figures, alluding to death and redemption, and symbolic of the universal sacrifices of men in war'.
While the mosaic is no longer on permanent display, it remains an important memorial and part of Anzac Square's history and will be revealed and exhibited annually to coincide with the artist's birthday in January.
Memorial plaques
Explore plaques inside the World War II Gallery.